On the Monday of Bowling Green week, we wrote our season preview: What Is Possible Today. It was post-idiot optimist, but still preseason, still time for plenty of regular old optimism to creep in. Our community expected win total was 6.74.
We talked about what might take place: struggles, early losses, more patience required. We talked about how patience would make perfect sense, but would likely lead to disengagement.
And then we talked about what might be possible. What could happen for Tennessee to surprise. That list included:
Joe Milton as a significant upgrade at quarterback
Junior college transfers Tiyon Evans and Byron Young made immediate impacts
The offensive line won't suffer additional significant injuries
The transfer portal speeds up some of the rebuilding process
The window of opportunity to enjoy this team is wider than usual
At the midway point of the season, Joe Milton is no longer the starting quarterback, and Cooper Mays – perhaps the most important offensive lineman to the work of the whole – has missed significant time from the get-go.
And yet.
I'm not sure even the optimists among us saw where we are right now as possible today. And the window of opportunity to enjoy this team is due for some renovation.
Here's our updated community expected win totals, higher in Week 7 than Week 1 for the first time since probably 2006: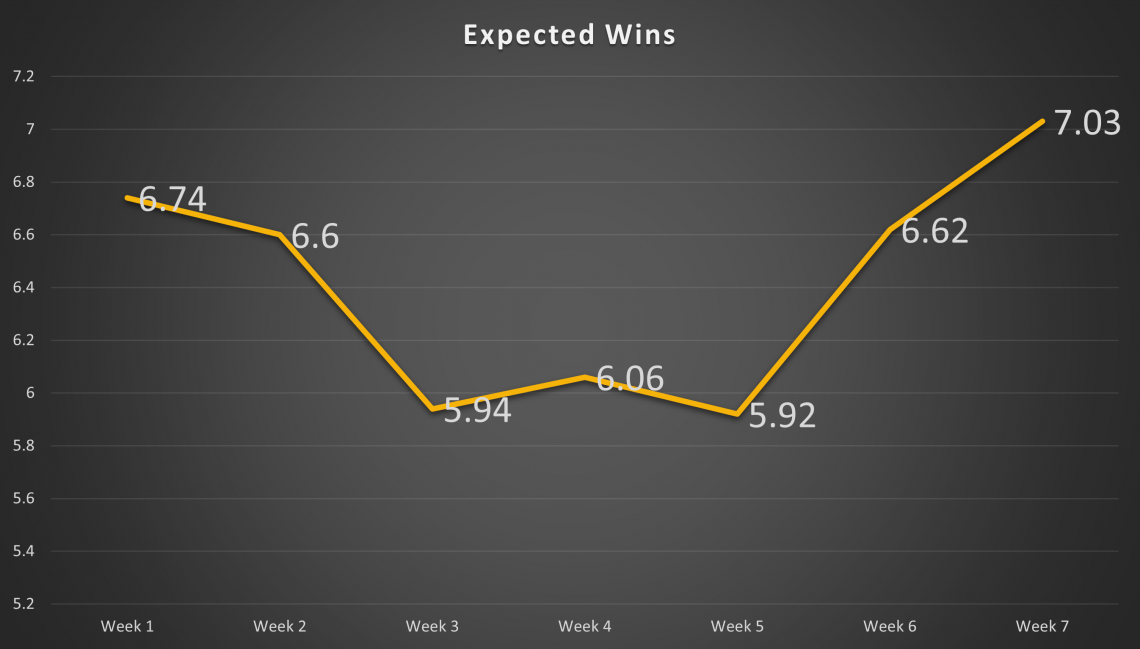 Our community gives the Vols a 47.2% chance to beat #13 Ole Miss on Saturday night.
In SP+, here's every Tennessee team of the last 14 seasons: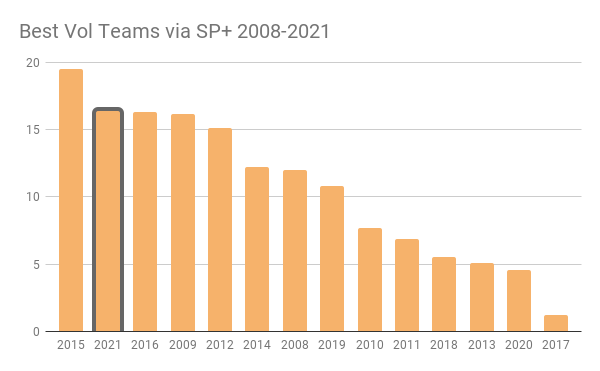 By tenths of a point, the current squad is playing at a more efficient level than the full-season version of 2016, and Lane Kiffin's year one squad in 2009, just two seasons removed from Atlanta. Only the 2015 Vols have been better over the course of an entire year than the 2021 Vols have played, snap-for-snap, to this point.
Sure, we're only halfway home, and sure, it's tenths of a point. But if you've been through what we've been through, you celebrate anything. And this team is giving us something much closer to everything than we thought we'd come this year.
This Tennessee team has already made Saturday night possible. It is the most anticipated game in Neyland Stadium since 2016 Alabama. And it carries glorious purpose: the opportunity to announce one's presence. Do it to Mizzou and South Carolina, okay. Win this game, and…
Well, that's one thing about it. So often, we've come to a game like this and missed the opportunity for something more. Last year at Georgia. Butch Jones in a pair of checkered Neylands, against the Gators in 2014 and Oklahoma in 2015. Derek Dooley against Florida in 2012.
But we didn't see any of those in year one.
There's little pressure here; we're not even entirely sure what we're doing with this team as fans. But most of us were unsure a game like this was even possible in this year one especially.
It's a credit to Lane Kiffin too, for getting Ole Miss to #13 in year two. Voices I trust and respect say to make this week about this Tennessee team and not about Kiffin, and I wholeheartedly agree with the sentiment. But I also don't think the healthiest break-ups are between two people who totally ignore each other when their paths cross a dozen years later.
One thing we've always loved about blog form is the way words can last. Within that, there's plenty of room for the ways we were wrong to last, for sure.
You can also go back and see something like the night Kiffin left unfolding in real time in the comments at Rocky Top Talk. It's not as exciting as you might think: it's mostly confusion, and lots of, "Maybe we'll hire This Guy!" when almost none of the This Guys look like good ideas in hindsight.
There was a period there, somewhere in the Derek Dooley years, where seeing if Kiffin lost at USC felt like the best we could hope for. Then the first time he returned, as an Alabama assistant in 2014 – now seven long years ago – Josh Dobbs impressively grabbed our attention and held it for another two years.
The idea then, and now, was that the best revenge is living well. It was, of course, a lot to ask for the kind of living that comes from beating Alabama.
On Wednesday evening, Tennessee is +2.5 against Ole Miss.
We've seen big upsets in year one. Butch Jones got #11 South Carolina at +7, Jeremy Pruitt got #21 Auburn at +14.5. They were incredible surprises on a Saturday afternoon. But Josh Heupel and his team, in a very short span, have created a virtual toss-up opportunity with a Top 15 team in year one. The kind, like 2012/14 Florida and 2015 Oklahoma, where you know what victory would mean…and know you've got a chance to do it.
Just to have this opportunity this week has been a gift, a delightful surprise. Great job by Heupel and these guys to get here. There are plenty of Saturdays out in front of them for their story to be told. We're already living well.
But what is possible now is to win Saturday night. To speak some words into Tennessee football and make a memory that would have a chance to live for a long time.
Just the thought of it makes me smile. And whatever you think of Kiffin, that's the dominant emotion for me this week. What a ridiculous, delightful notion that this kind of game even exists for us in Week 7 of Year 1 of Year 13 of trying to get this right. What an incredible opportunity.
Might as well win it.
Go Vols.