This week, Tennessee fans give the Vols a 60.7% chance to beat LSU in Baton Rouge in our Expected Win Total Machine. The season expectation creeps north again this week, currently at 9.26 wins in the regular season: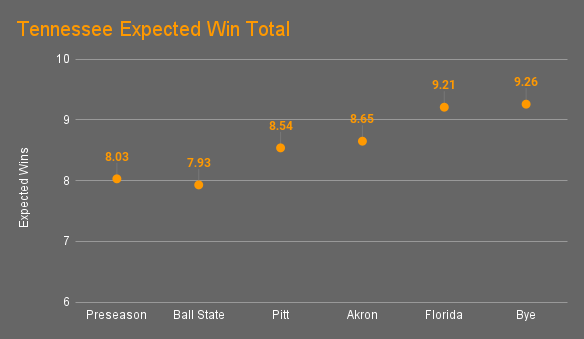 If the Vols do tame the Tigers, it'll make three ranked wins on the still-young season. That's a feat Tennessee hasn't pulled since 2016. And going back through the media guide, you realize pretty quickly how three ranked wins in one year is a bigger deal than our memories probably give it credit for.
The AP poll expanded to 25 teams in 1989, which is a convenient starting point for Tennessee anyway. In those last 33 seasons, the Vols have only beaten three ranked teams in the same year a dozen times. The 1998 Vols have the record at six, followed by 2001 and 1991 with four. The '91 Vols also played a UT record seven ranked vs ranked games. But this Tennessee team is getting close to making not just recent history, but joining lists that include some of our favorite teams ever.
Tennessee Teams with Three+ Ranked Wins since 1989
2016: #19 Florida, #25 Georgia, #24 Nebraska
2007: #12 Georgia, #15 South Carolina, #18 Wisconsin
2004: #11 Florida, #3 Georgia, #22 Texas A&M
2001: #14 LSU, #12 South Carolina, #2 Florida, #17 Michigan
1999: #10 Georgia, #10 Alabama, #24 Notre Dame
1998: #17 Syracuse, #2 Florida, #7 Georgia, #10 Arkansas, #23 Mississippi State, #2 Florida State
1997: #13 Georgia, #24 Southern Miss, #11 Auburn
1995: #18 Arkansas, #12 Alabama, #4 Ohio State
1994: #23 Georgia, #17 Washington State, #17 Virginia Tech
1992: #14 Georgia, #4 Florida, #16 Boston College
1991: #21 UCLA, #23 Mississippi State, #13 Auburn, #5 Notre Dame
1989: #6 UCLA, #4 Auburn, #10 Arkansas
One thing you'll notice about this list too: seven of these teams got their third ranked win in the bowl game. Of this group, only 2001, 1999, 1998, and 1991 got three or more ranked wins in the regular season; 1997 got their third in the SEC title game.
I realize beating #17 Pittsburgh, #20 Florida, and #25 LSU would still leave Tennessee without a Top 15 win, but there are plenty of chances to do that coming soon. On quantity alone, a win in Baton Rouge would put the 2022 Vols in very good company.
The lines between "this is our best season since…" and "…this is one of our better seasons, period" are getting blurrier by the week.
Go Vols.