It's been easy, in hindsight, to frame a lot of last week as, "LOL Mizzou's defense." I've done it too. And now, that's leading us head first into, "LOL Carolina's offense," on the front end this week.
And sure: take away pick sixes, and the Gamecock offense scored 13 points against East Carolina, 13 against Georgia, 10 against Kentucky, and 16 against Troy. Meanwhile, Tennessee's defensive performance in holding Pitt to 4.84 yards per play looks better by the Saturday. And Mizzou's 5.35 yards per play featured 154 of the Tigers' 396 yards (38.8%) coming after Tennessee built a 55-17 lead.
So there's a version of this where we pump the brakes on Tennessee's defense, saying we'll get a much bigger data point next week against Ole Miss. Fair enough. But despite the good vibes, and assumed advantage – our community had the Vols at 61.9% to win this game in the preseason expected win total machine, but 73.9% this week – that same upgraded test is coming for Tennessee's offense tomorrow.
South Carolina's defense is 36th in SP+ this week: not enough to offset the offensive concerns, but enough to make life difficult on Tennessee. And really, life hasn't been overly difficult for Tennessee's offense much this year.
There's still so much about watching Heupel's team that we're getting used to, especially pace-related. The Vols are at 75.8 plays per game. In our last year one, the Vols ran 59.7 plays per game, last in the nation by an unhealthy margin.
The Vols are also currently rocking essentially a 240-to-140 run-to-pass ratio, keeping it on the ground 63% of the time. Last year the Vols ran it 56.8% of the time, 56.2% of the time in 2019. When Tennessee last had a running quarterback and potent offense in 2016: 57.7% on the ground. Three of Tennessee's five games have been non-competitive to the good in the fourth quarter, so I'm not sure we're running 63% of the time by the end of the year. But it's still an uptick from what we've seen in the past.
Running it so often this year defies much of the Heupel stereotypes, which he tried to tell us coming in. But I think it's also masking some really good quarterback play from Hendon Hooker.
In the four weeks he has played, Hooker is throwing it 22 times per game (plus 8-10 carries per game, excluding sacks). For context: last year JG threw it 24 times per game, Josh Dobbs was at 27 in 2016, Tyler Bray at 38 in 2012. At UCF, Dillon Gabriel hit 41 per game last year, but just 31 per game in 2019.
So no matter how you slice it, Hooker's on the low end so far. He had 21 pass attempts against Pitt and 23 against Florida, but didn't play the entire game in either. There's a chance South Carolina's defense requires more from him.
But even with a smaller sample size? What Hooker actually has done is particularly impressive in three ways. He's fifth nationally in overall QB rating, but that's often a less trustworthy stat. However:
Completion Percentage: 68.5%, 24th nationally
Recent UT leader: Erik Ainge 2006 67%
Yards Per Attempt: 9.4, `15th nationally
Recent UT leader: Erik Ainge 2006 8.6
Interception Percentage: 1.1%
Recent UT leader: Peyton Manning 1995 1.1%
So far, Hooker is accurate, explosive, and clean. That last part might feel a little out of place because his only pick on the year was on the final drive against Pittsburgh (and he also threw a bad one in the Orange & White Game). Hooker also threw five picks on 150 attempts (3.3%) last season at Virginia Tech. But so far this year, he's rocking a 10-to-1 touchdown-to-interception ratio, and hasn't really thrown many balls that had a chance to go the other way.
We go into Saturday almost back where we started in win totals, despite having two losses: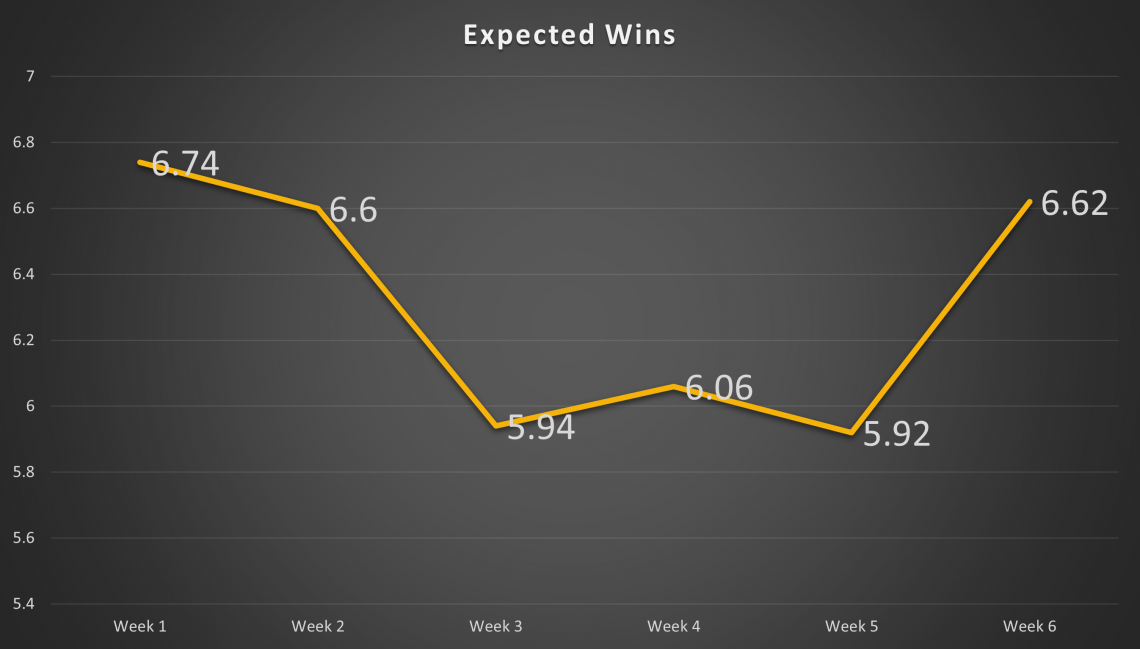 And if the Vols win this game – which again, we're favored to do – optimism should hit a high-water mark next week. When's the last time we were more optimistic in Week 7 than in Week 1?
Coming into the year, we thought this game would be the best comparison to where the Vols were, and the most important one to get in the quest for six wins. If the name of the game is volatility, both for a year one coach and college football this season, maybe we'll go back to expecting the unexpected with this team.
But a win tomorrow allows us to keep having the much more fun conversations about this team, and would set up a highly anticipated showdown next Saturday night. It's a big game in the way it enables other games to be big.
Carolina's offense hasn't been a challenge. Will their defense challenge Hendon Hooker, and will he continue to rise to the occasion?
Go Vols.