Our community expected win total lands at 5.92 this week. Through four weeks of the season, Tennessee has been incredibly steady as it relates to expectations. The biggest difference we've seen in expected win totals was losing a 50/50 game to Pittsburgh: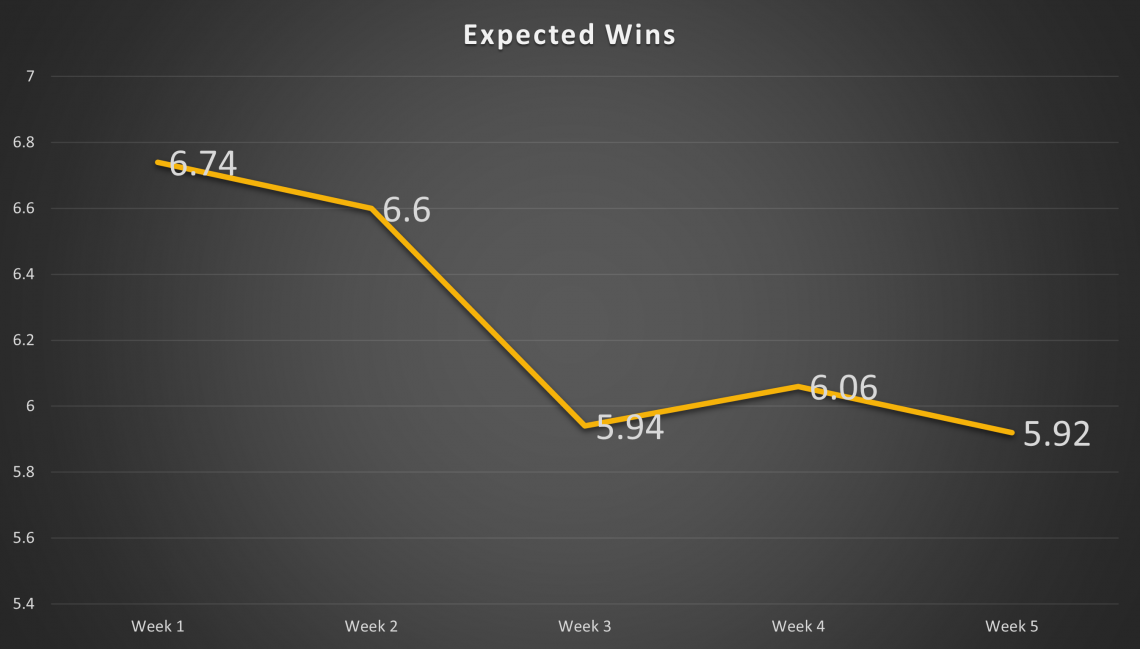 In our three games vs FBS competition, the Vols have come within six points of the line:
-37 vs Bowling Green; won by 32
+3.5 vs Pittsburgh; lost by 7
+18 at Florida; lost by 24
"Predictable" would not have been your word of choice coming into this season, for a million reasons. But a third of the way through the regular season, the Vols are a lot of who we thought they'd be. And that's a good thing, considering we tend to think a little more highly of our teams as Week 1 approaches.
Josh Heupel's first team continues to follow a path that was largely unavailable to his predecessors. Jeremy Pruitt's year one Vols in 2018 caught a ranked West Virginia squad in the opener, then Florida, Georgia, Auburn, and Alabama in a row. November would be the month they had their chances, we thought.
Butch Jones' 2013 squad faced what still might be the toughest schedule in school history, playing seven Top 20 (and six Top 11) teams from September 14-November 9. Other than Austin Peay, Western Kentucky, and South Alabama, the Vols were underdogs every Saturday until they played Vanderbilt and Kentucky to finish.
Derek Dooley's Vols had the same problem, never facing a one-possession line until November. That 2010 group knew it might face a 2-6 start with a chance to finish 6-6, and that's exactly what they did.
Pruitt and Jones were able to score the big upset, and Dooley almost did at LSU. Pruitt's Vols beat Auburn on October 13, Jones' Vols beat South Carolina on October 19, and Dooley's Vols had LSU the first time the game ended on October 2. It's been the month for year one magic, real and almost.
Josh Heupel's season has already faced a different set of challenges with a true toss-up in Week 2, where the Vols left feeling okay about themselves with a seven-point loss despite three turnovers and 13 penalties. But instead of running the SEC gauntlet early and getting those wins back late, Heupel's Vols now enter their most crucial stretch of the season. Another 50/50 game, this time at Missouri. A chance to be a home favorite in the SEC, non-Vanderbilt division, against South Carolina. And the most realistic big upset opportunity left on the table against Ole Miss.
The Vols have two wins in the bag, and we assume two more at the end of the season from South Alabama and Vanderbilt. Good news about those two being there: you literally can't look past them. In between, the Vols need two more wins to secure bowl eligibility. The best and most important chance to get one should be next week against South Carolina, a program also starting over. That would leave either at Missouri, or at Kentucky left: split those and beat the Gamecocks, and you're home. So while it's not a necessary win, tomorrow is a tremendous opportunity to get ahead of the curve.
In this regard too, optimism has increased since the season opener. In the week leading up to Bowling Green, our readers gave the Vols a 44.2% chance to win at Missouri. This week, despite Tennessee's loss at Florida and uncertainty surrounding the health of Hendon Hooker, our readers give the Vols a 52% chance to get it done in CoMo. The Tigers only beat Central Michigan by 10, then lost a pair of high-scoring games by a touchdown to Kentucky and at Boston College. There's still plenty of time for a year two ascent under Eli Drinkwitz, it just hasn't happened yet.
We'll spend plenty of time talking about Lane Kiffin in a couple of weeks, but so far Josh Heupel's year one path again most closely resembles his. A should've-been-different loss to a mid-tier non-conference foe. A that-wasn't-as-bad-as-we-thought loss at Florida. And now, another opportunity in a toss-up game.
Kiffin's Vols needed one more Saturday to bear fruit: on October 3, they lost to Auburn 26-22 in Neyland Stadium. We may be in for another Saturday with thin margins tomorrow. But so far, these Vols have been about what we thought, with plenty of opportunity left to become what we hoped.
Go Vols.