Don't look now:
We love SP+ in part for the value it places on every snap, and the way it helps differentiate two teams with the same record. As you might expect, when you announce your presence with such authority as the Vols did against Mizzou, you go up in the ratings.
Same with KenPom, coming into the last few seasons we've used Bill Connelly's preseason projections in an attempt to figure out the right tier for that year's team. For instance, this year we thought progress for Tennessee would look like something better on the field than we saw in 2017, 2018, and 2020.
That might still, of course, be the case. But through five weeks, Josh Heupel's first team has moved itself up a tier or two in these conversations.
Here's Tennessee's history in SP+ in the last 14 years, including the current rating for 2021: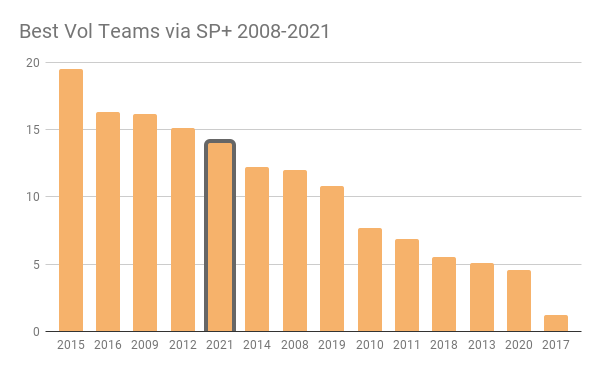 If the 2021 squad holds its current position, it would be the fifth-best Tennessee team of the last 14 seasons. That would be a really good start for Josh Heupel in year one.
(I assume you know the part that follows by heart – "…especially considering everything we've been through," – but I'm going to keep saying it, because it was and is monumental, and is so far an even greater testament to what these guys are doing through five weeks.)
The 2015 Vols are rightfully atop these ratings in the post-Fulmer era. But the next three teams are in the tier we thought Jeremy Pruitt's Year Three Vols would land among: the full-season edition of 2016, Lane Kiffin's 2009 season, and Derek Dooley's final year in 2012. You felt like each of those teams generally had a chance to win every Saturday.
Right now, the 2021 Vols have positioned themselves just beneath that tier, but above what I thought would already end up representing progress for them: the year two efforts of both Butch Jones (2014) and Jeremy Pruitt (2019). Again, that would be an incredible accomplishment for Josh Heupel in year one…especially considering everything we've been through.
It's five weeks; we'll see. But in this metric at least, the Vols have moved from "Better than most of the last five years," to "Faster pace than Dooley's early rebuild," to "On pace with Butch and Pruitt in year two," to "…Okay, I don't know what to do with this team, but I'm excited about the possibilities."
It's five weeks. But…especially considering everything we've been through…I will write all the words you want when good news presents itself.
Go Vols.