Last night's win still feels a bit like a relief. It's unfair in some ways: any win over a ranked team still falls in the celebration category for Tennessee. You have to go back 15 years to find the Vols beating a Top 20 foe on the road (Georgia 2006, which remains Tennessee's last Top 10 win anywhere). It qualifies as a signature win in year one. And while I enjoy this rivalry quite a bit, you don't want to downgrade beating Kentucky just because they're Kentucky. Credit Mark Stoops and those guys for building something worth celebrating when you beat them.
I think most of this is the way Tennessee jumped UK 14-7 and was ready to extend the lead before the fumbled exchange. Tennessee gained 189 yards on its first six snaps. It's hard to not get a bit downhill from there. But the unstoppable feeling of the Vol offense combined with the uncomfortable feeling of Kentucky getting every third down? It made the game feel less back-and-forth and more, "Why aren't we putting these guys away?"
So sure: Tennessee's defense is now 126th in third down conversions allowed at 48.39%. The Vols have given up points on 33 of 35 red zone trips (94.29%, 124th) and a touchdown on 28 of those (80%, 127th). But again, it's not complicated to see what Tim Banks' group is going for.
Tennessee's defense has faced 716 snaps, the most for any team playing nine games and no overtimes so far this year. They've given up 148 plays of 10+ yards, 114th nationally.
But they've only given up six plays of 40+ yards, 23rd nationally. Bend, don't break, rinse, repeat.
They're disruptive up front, second in the country in tackles for loss with 8.11. And sure, some of that is the enormous snap count. But they still made those plays count late in getting Kentucky's offense off rhythm. They're 95th in total defense if you only look at yards per game. But in yards per play, they're 43rd. And play-for-play, in SP+ the defense rates 35th nationally: not great, but still something better than average.
Despite what we saw from Kentucky last night, this defense is still playing above what we expected from it coming into the year. In those SP+ ratings, the Vols are still in far better company than we thought we'd see in year one: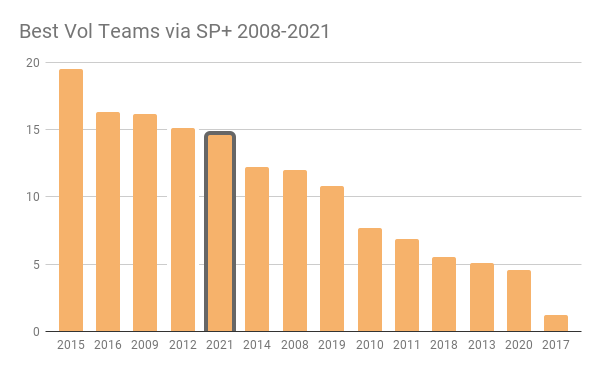 That 2012 squad is actually a decent comparison when we're in our feelings about the defense. It's just that those feelings feel different when you're overperforming in a coach's first year vs underperforming in a coach's third. And that defense did have backbreaking end-of-game sequences against Florida and Mississippi State. Few are looking for revisionist history on Derek Dooley nine years after the fact. But we do still tend to think of 2012 as, "Offense good! Defense bad!"
This team has a great chance to be remembered for far more than that. The Ole Miss loss still feels, to most, like, "Referees bad!" And the Pitt loss gets some of that, along with -3 in turnovers. But in the long view, this team has done exactly what we hoped as a best-case scenario at the start of the year: split your toss-ups with Pitt, Missouri, Ole Miss, and Kentucky, and make sure you beat South Carolina. Missouri's defense is way worse than we thought. But those other three teams are way better. I'm not sure anyone had us going 0-2 in Neyland and 2-0 on the road in that scenario, but we'll take it. And what we saw for much of last night from the defense is what we feared we'd see all year…and we haven't. And when it mattered most last night, we didn't then either.
Who knows what Georgia will reveal, and perhaps the Vols will get another toss-up in the postseason. But I'd look for ways to give this defense credit at this point in the year, not take it from them.