When Tennessee beat LSU, we wrote this about the week to come:
You can think whatever you want about "back"; that's a question we already learned we can't really even answer until the entire story of this season has been written. This team has skipped so many steps in this rebuild – in that rebuild? – comparisons are hard to come by.
So never mind back. The Vols are here. Beat Bama.
In our Expected Win Total Machine, the Vols finish the regular season exactly who we thought they were on that day: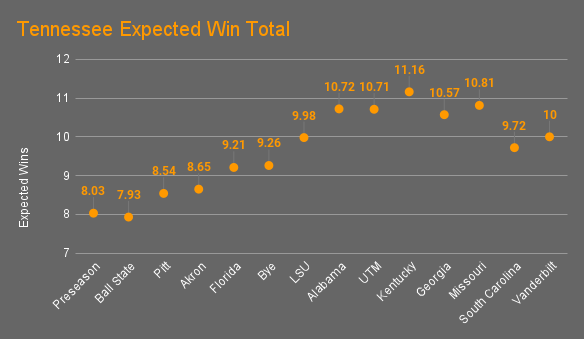 Beating Bama, of course, will make you believe everything is possible. No complaints or apologies about that; we'll look forward to having that problem anytime the Vols want to give it to us. But on the other side of two losses and a rousing response from the defense, the entire story of the regular season is now told. Because of the injury to Hendon Hooker, the bowl game will include a higher percentage of next season than usual.
So here, at the end of the regular season, try this one on for size: are the Vols back?
Can you be back and lose to South Carolina the way we did?
It depends, of course, on what you're looking for when you say "back". But to me – and I would submit, for all of us – the answer to that question is absolutely yes.
Not because they beat Vanderbilt. Not because they avoided collapse after the South Carolina loss. And not because of the individual highs of Bama, LSU, Florida, you name it.
But in the landscape of college football, the ways we judge a season's success are about to crystallize. Division titles, BCS/NY6 bowl appearances, all of that is about to merge into a single question: "Can we make the 12-team playoff?"
If we were asking that question right now, the answer would be yes. Best way to believe you can do it again is to know you can do it now.
"Back" was never about winning a national championship and calling everything else incomplete. "Back" is about playing your way into the conversation. Fewer teams and different names back then, but every year from 1989-2007, you went into the year believing the Vols would be in the conversation.
Tennessee's own strategic plan uses Top 16 finishes to help define success for its programs. It's in the "chase championships" language from the top: win some, absolutely. But chase them, always. In that sense, conversations will begin to sound like:
Are we in the hunt for the 12-team playoff in football?
Can we earn a Top 4 seed in the NCAA Tournament in basketball, to be favored to make the Sweet 16?
Can we host a regional in pursuit of the College World Series in baseball/softball as one of the Top 16 teams?
In the biggest of pictures, it's the greatest gift and the greatest accomplishment of this team: they put the Vols back in the championship conversation. More than beating Alabama by itself – but in large part because of it – this team got Tennessee in a four-team playoff chase, and would be hosting a first round game in a 12-teamer right now. This team, who was still that team just 24 months ago.
This team.
And yeah, that South Carolina loss hurts. It's supposed to. That's part of being in the conversation too. It hangs in limbo for the moment; if TCU and USC win next weekend, it may not have ultimately mattered. It could ultimately end up sharing that space with the Hobnailed Boot: an incredibly painful Saturday that didn't end up costing Tennessee much of anything. We'll see.
But no matter what anyone else does, including Tennessee in its bowl game, this team has already given us the best gift we could've asked for this season. The Vols are back in the chase. The past was great, the future is bright. But it's the present that always matters most; it's all we've ever really got.
And this year, Tennessee gave us an incredible gift.
It's not over yet. Clemson vs Tennessee in the Orange Bowl will be the leading projection for the Vols this week, if the College Football Playoff poll continues to reflect what we saw in the AP poll today. It would be Tennessee's most prestigious bowl appearance since a BCS at-large at the end of the 1999 season. It would give us a look at Joe Milton against a Top 10 team.
And – no matter the opponent, but especially if it's them – it will give us one more meaningful look at this team. If it came against another program chasing championships, that's a bonus. But this team – this team – has been such a gift, I'm so excited for the opportunity to see them one more time. When the Vols are in a good bowl, it's like your Christmas extends out another week. For many of us, there's almost a childlikeness to this group, because they've taken us back to those days ourselves.
What a gift this year has been. One more left.
And from here, make no mistake: the chase is on. In the most important conversation? The Vols are back.