Hello, old friend.
With spring practice behind us, we unveil the first edition of our Expected Win Total Machine. Last season, we found running it after the Orange & White Game produced almost exactly the same result as running it the week before kickoff. Perhaps that would change if you had a quarterback battle extending into fall camp, but until that's the case, we like putting it out here now to help take the temperature for season expectations.
Last year, those numbers were 8.10 expected wins after spring practice, and 8.03 when the Ball State game kicked off. You may recall it dropped to 7.93 the week of the Pittsburgh game, which means headed in to Week 2 we thought 7-5 was ever so slightly more likely than 9-3.
And then this happened: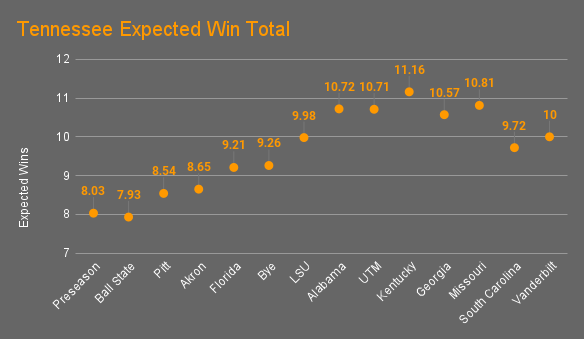 This, coupled with Tennessee's win over Clemson in the Orange Bowl, gave us our first unanimously great season in 15 years, and perhaps our "best" season since 2001. It was on par with just about anything that wasn't 1998, and created the expectation that Tennessee's program can be in the hunt when the 12-team playoff begins in 2024.
Until then, we've got one more run at the four-team format, and one last season with the SEC East on the line. I doubt we'll see the Vols projected to finish with the kind of win total that suggests we think UT will overtake Georgia. But part of the fun of this exercise is seeing the percentages for each game. What kind of odds will we give the Vols against the defending champs? In Tuscaloosa? How high will our confidence go in taking revenge on South Carolina?
Find out all those answers here. Enter the percentage chance you give Tennessee to win each game, then hit submit to find out your regular season expected win total, and enter your total into our community database. We'll be back later this week with the initial results.