Two weeks before my son was born in 2017, we were going through a box of old photos at my parents' house and came across a letter. I shared this story on Twitter at the time, and it was the first thing I thought of today.
I was born in 1981, too early for the joy of Tennessee's 1985 season. My parents took me to my first game the following year; now as a parent myself I know exactly why they picked the Army game, with all that smooth cupcake texture…except we lost, 25-21. They took me to a few others that year and in 1987, including a trip to the Peach Bowl at the end of the season.
And then the following year, my dad and I both decided I would give up a floundering AYSO career on Saturdays and go to all the games.
The Vols, you might recall, started 0-6.
If you've had small children in the last, I don't know, ten years? There's that question in the back of your mind: "Will we be good enough in time for my son or daughter to fall in love with them?"
In 1988, the week after a particularly difficult loss to Alabama made it six straight to open the season, my grandparents sent Johnny Majors a card. I recall it having something to do with Keep On The Sunny Side and their seven-year-old grandson.
I'm sure they expected nothing in return, especially that week. Instead, they got this: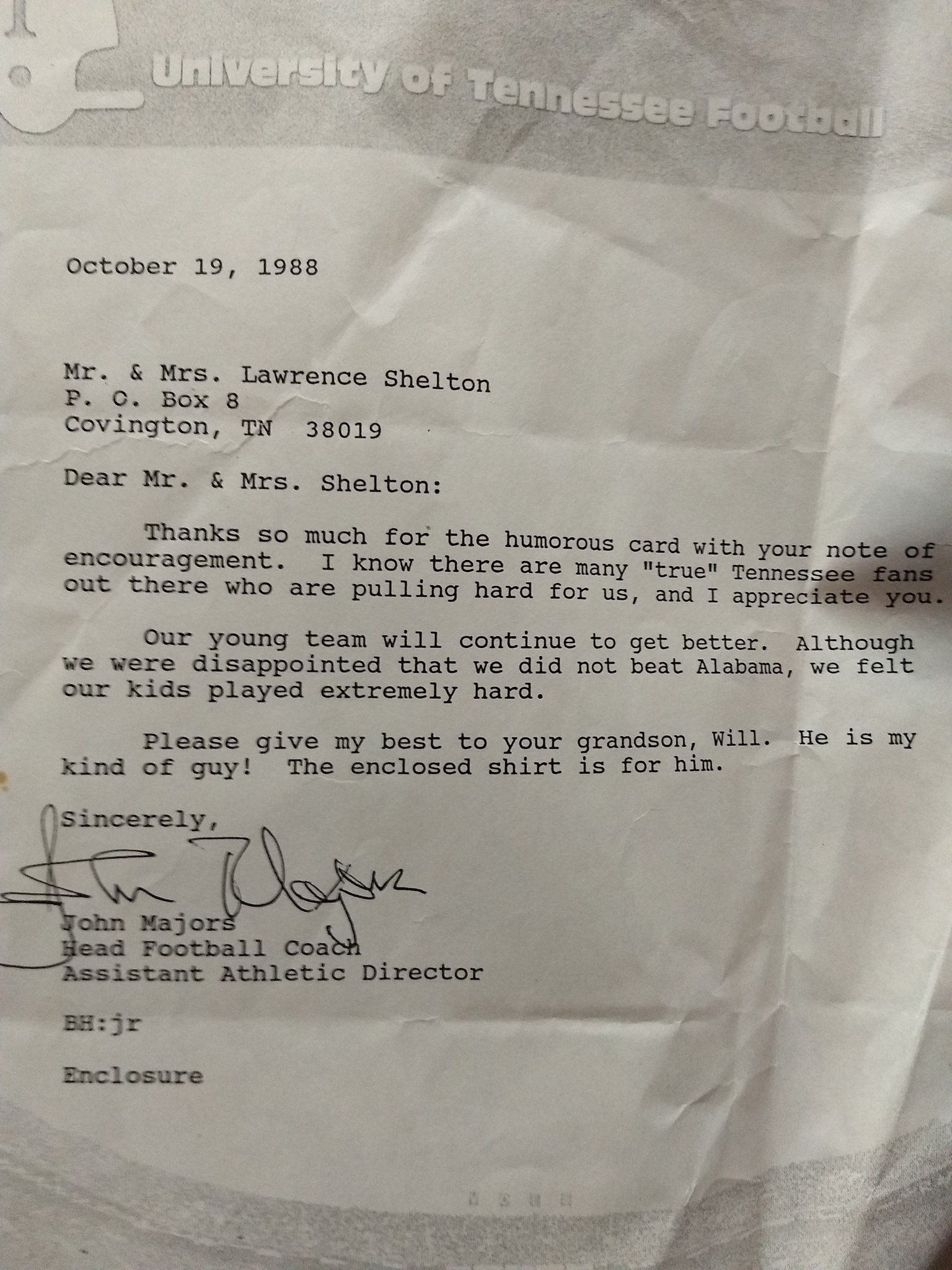 Tennessee, as I know you'll recall, did alright from there. And not too bad for the next 13 years either.
Coach Majors only got the next four of them. He won back-to-back SEC titles in 1989 and 1990, and gave us one of the greatest wins in program history in South Bend in 1991.
I was 11 in 1992; too young to fully understand everything that happened with Majors and Fulmer. Having written on the Vols for the last 15 years, most of which have been the kind when you do wonder if your children will care, there's a part of me that looks back at all that and says, wait, we moved on from Majors after all the good of 89-91 because he lost to Arkansas by one, national champion Alabama by seven, and South Carolina by one?
And we did. And it worked, though that's not at all the right word really. We love Phillip, we love Johnny, etc.
But now, nearly 30 years removed from all that, both Majors and Fulmer are examples of how none of us are ever fully defined by our highest or lowest moments.
My generation was sensationally blessed to grow up with those teams from 1989-2001. But I started going when the Vols started 0-6. It wasn't the winning; it never is, not really. You live long enough, your teams will win and lose.
Johnny Majors played on Tennessee teams that went 4-6 in 1954 and 10-1, SEC Champions in 1956. There are some around here old enough to argue he's the only one to get a worse deal from the Downtown Athletic Club than Peyton Manning. He won a national championship at Pittsburgh in 1976, left for the alma mater, and went 4-7 his first year at Tennessee. His first eight teams finished the season unranked. Five of his last seven finished in the Top 15. Like Fulmer, he gave his all for Tennessee, and we asked him to leave. Like Fulmer, he never really left, even if he wanted to.
The longer I'm alive and the longer I sit at these keyboards, the more I'm grateful for the stuff beyond the box score that makes Tennessee what it is. For me, it was a letter and a t-shirt when we were 0-6 in 1988.
Johnny Majors is as Tennessee as anyone, ever. And he sure helped a lot of us fall in love with the Vols too.