Year one speculation is a bad idea, especially bad when you're coming off a pandemic season, are facing the newness of the transfer portal, and are in your fifth year one since 2009. But hey, let's give it a try!
Josh Heupel is also burdened with uncertain penalties via the NCAA. He should be less burdened with fan expectations, which previously went something like this:
Kiffin: New and different, brash in ways that made you defend him basically every day of the off-season, recruiting well enough to be excited, and the Vols were still just two years removed from Atlanta.
Dooley: We love you, because you aren't Lane Kiffin.
Butch: Recruited well enough to raise expectations before his teams played a game, and knew going in that a single win over a ranked opponent would be more than Dooley was able to accomplish in three years.
Pruitt: Nevermind all that, and nevermind all the drama, now we've got a football coach's football coach! That should be enough to make a difference, right?
There's a freedom and, I think, something healthy in the letting go of the past that comes with everything Tennessee's been through. But there's also something healthy in the opportunity that's before Heupel now, not just x years from now when the program is hopefully in a better place.
A couple months ago, Bill Connelly released his first 2021 SP+ projections. We love SP+ because of the value it places on every snap and the way it helps when comparing teams of similar records. But it's also valuable to us because it's unbiased, indifferent to whether the Vols win or lose. All of the above make it an early, helpful place to start when thinking about what forward progress might look like in 2021.
Tennessee's initial 2021 SP+ projection is 6.1 (points better than the average team on a neutral field). That ranks 49th nationally, but for Heupel in year one, I think the more important context is where that puts Tennessee compared to years past: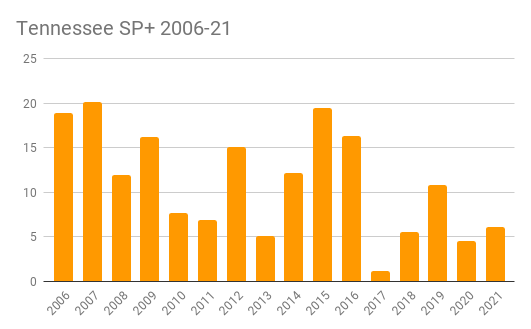 Tennessee's 2021 projection doesn't flirt with the peaks of the Butch Jones era or Phillip Fulmer's 2006-07 seasons. But it would qualify as UT's second-best season in the last five years. And it would give our last three year ones a run for their money.
Kiffin's first and only year is an odd comparison, mostly because of its recency to the good old days. And though that team was stout in SP+, in still only finished 7-6. But the others – Derek Dooley in 2010, Butch Jones in 2013, Jeremy Pruitt in 2018 – still offer similar goals and possibilities to what the Vols will be after in 2021.
Dooley's year went the most predictably overall, though it was two after-the-buzzer losses away from going even better. Looking at the schedule, we thought the Vols might start 2-6 and have to win four in a row to get bowl eligible, which is exactly what they did. "Get to a bowl game," is always a good year one goal when you're starting over; "Get six wins," might be Josh Heupel's version depending on NCAA penalties. It's the most straightforward pass/fail of a coach's first year.
That was true for Butch Jones, hampered by the most difficult schedule any Tennessee team has faced in the SEC expansion era post-1992. The Vols caught Marucs Mariota and Oregon in Week 2, and drew BCS title game participant Auburn from the SEC West. Overall, the Vols played six teams ranked in the Top 11, five of them in a row. Tennessee beat one, getting #11 South Carolina in Knoxville, and almost beat another against Georgia. Those two performances instantly felt like more than Derek Dooley accomplished in three years. But the season lost its footing at the end in a 14-10 loss to Vanderbilt, costing the Vols bowl eligibility and a chance to declare year one an outright success.
Something similar happened to Jeremy Pruitt, who scored the third-biggest upset of my lifetime via Vegas at +14.5 over Auburn, then beat #12 Kentucky by 17. Success was at hand! Then the Vols lost to Missouri by 33 and Vanderbilt by 25, finishing 5-7.
The good news for Heupel's year one starts with the schedule. Derek Dooley hosted #7 Oregon in week two, Butch Jones got #2 Oregon in week three, Jeremy Pruitt got #17 West Virginia out the gate. Josh Heupel gets Pittsburgh, in Knoxville.
That helps push Tennessee's expected win total to a conversation about not just six wins and potential bowl eligibility, but seven as the most likely outcome. This makes for an intriguing year one possibility, even if it always remains a hypothetical due to a bowl ban: if the Vols finish 7-5 and win the ________ Bowl, Heupel would have the best year one of any coach since Phillip Fulmer.
ESPN's FPI projects the Vols at 6.6 wins, with a 79.6% chance to earn bowl eligibility. And SP+ will put the Vols in that neighborhood as well. You don't have to pursue any fantasies with Florida, Alabama, or Georgia. And, despite Tennessee starting over again, the same should be true for Bowling Green, Tennessee Tech, South Alabama, and Vanderbilt against us. The Falcons, in particular, are an appealing opener for Josh Heupel's Vols: 126th in points allowed last season, 125th in preseason SP+ projections.
Two of the remaining five games do lean more than we probably perceive as fans, at least according to FPI and SP+. South Carolina is likewise starting over; the Gamecocks and Vols have played one-possession games eight of the last nine years. But the advanced metrics lean toward Tennessee. And Ole Miss, depending on your age bracket, still doesn't carry the weight of, "They're better than us," in fan expectation. But in the advanced metrics, they do. Depending on how everyone starts, the October 16 tilt in Lane Kiffin's return to Knoxville could become one of Tennessee's biggest games of the season. But the Vols project as the underdog, not as an equal.
Equality comes in the other three match-ups, the ones that, from late April, look most likely to decide the ultimate outcome of Tennessee's season: Pittsburgh, at Missouri, and at Kentucky. They each carry their own punch: the first "real" test for Heupel in week two, a return to his offensive coordinator home in week five, and a chance for revenge against the Cats off the bye week. If the other projections hold, you're 5-4 before taking these three games into account. Lose all three, and you're the third consecutive Vol coach to go 5-7 in year one. Win one, and you're bowl eligible. Win two, and you've hit 7-5, with a chance to at least entertain the argument that you've had the most successful year one since Fulmer. (And, of course, win all three, and you're 8-4…which is as good as any Tennessee coach has done in any year since Fulmer.)
We'll see. But even though there's plenty working against Tennessee in its fifth year one since 2009, there's plenty of opportunity to make it the most memorable one since then as well.