Even after losing to Georgia, last week marked the second-highest confidence level of the season overall. After blowing out Missouri, fans were even more confident the Vols would get to 11 wins than we were coming out of the Alabama game. It did not go that way, of course, but this chart is still a wonder to behold over the course of the entire season: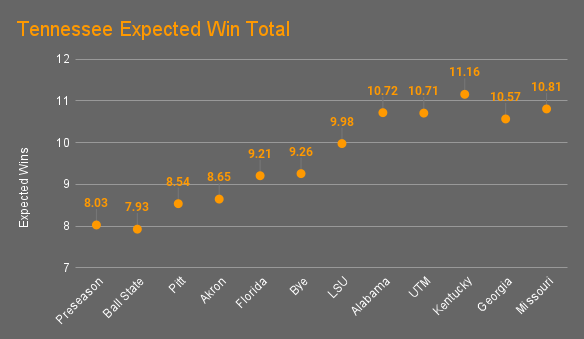 Officially, the Vols will go to Nashville with Joe Milton as QB1:
So now, the final question of the regular season carries much more weight: how confident are you the Vols will beat Vanderbilt? The Commodores have won two straight over Kentucky and Florida, and are now battling for bowl eligibility. The Vols, depending on how Tuesday's playoff poll looks, will be positioning themselves for a New Year's Six bowl. And in the longest of terms, Tennessee will look to finish off its best season in at least 15 years, would earn its first two-loss regular season in 18 years with a win, and give themselves a chance to play for its first 11-win season in 21 years.
Past, present, and future with Milton, there is a ton to play for Saturday night. How are we feeling this Monday morning?