Last week our community win total moved to 10.72 regular season wins. Here's the week-by-week total: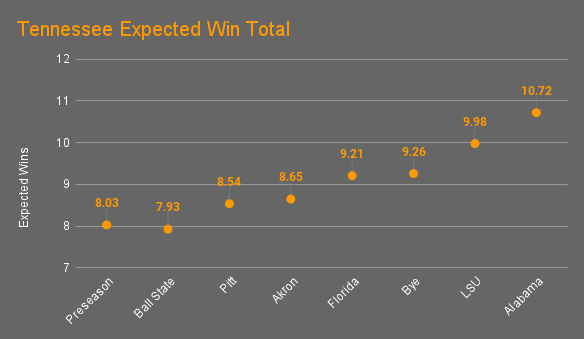 This week's win total machine is at the bottom of this post; I wouldn't be shocked to see that number come down just a hair, as last week's total includes that Monday morning feeling of having just beaten Alabama. But no matter how you look at it…we've come a long way in a hurry.
On October 10, 2020, Tennessee led #3 Georgia 21-17 at halftime. After two turnovers, it was still within reach at 23-21 Georgia with 35 seconds left in the third quarter. The Dawgs found the end zone on 3rd-and-7 from the 21, the Vols went three-and-out, and Georgia added two more scores from there for a 44-21 win.
The Vols were close for a half, then had a turnover-induced setback to leave us with a similar end result to our previous three encounters with Georgia. Still, forward progress seemed available and attainable. The Vols welcomed Kentucky to Neyland Stadium the following Saturday.
In pre-covid days, October 17 was our bye week, so I was at my sister-in-law's wedding. I wasn't there in person to witness what happened or describe its atmosphere. The radio told me the Vols turned it over on four consecutive possessions, two of them pick sixes. Even so, it was only 17-7 at halftime.
To open the third quarter, the Vols had 3rd-and-2 at their own 29. Eric Gray got a yard, and Tennessee punted. And a Kentucky offense that had been completely bottled up in the first half came to life, and took it from Tennessee. 75 yards in 11 plays, never facing more than 3rd-and-1, and a three-possession lead. The Vols punted once more. Kentucky's punter never saw the field again.
The 34-7 victory for the Wildcats remains Tennessee's worst performance relative to the spread in 40+ years, favored by 6.5 and losing by 27. It wasn't the last straw for the previous administration. But in hindsight, the Vols got no closer to forward progress than at halftime of the Georgia game the week before. And six quarters later, the bottom fell out.
That was two years ago. That was the last time Kentucky came to Neyland Stadium.
And there may be no better point from which to measure the growth of this program than what has transpired since then.