Every season tells a story, and a new chapter is written each week. In preseason, our Expected Win Total Machine had the Vols at 8.03 wins, just barely tipping the scales to 9-3 being more likely than 7-5. But 8-4 – which would tie the best record at Tennessee in the last 15 years – was the clear cut expectation.
One month and two huge wins in, 9-3 has become the clear cut expectation. And 10-2 is significantly more likely than 8-4 in this week's responses: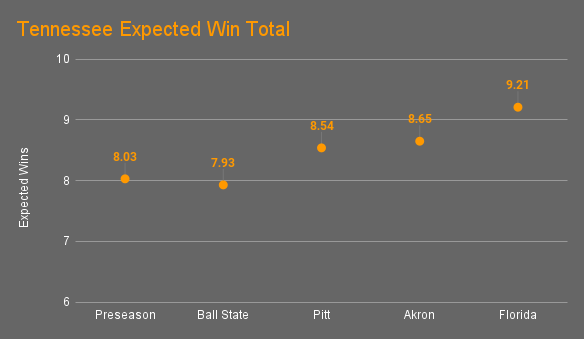 So our best season in 15 years has become the baseline expectation. And there's still a better chance of reaching the ceiling than the floor from here.
Tennessee continues to find itself in the Sugar Bowl in many a bowl projection. That's still most often attached to projections that send both Georgia and Alabama to the College Football Playoff. If that happens, the third best team in the SEC is going to New Orleans. And this week, Tennessee looks the part.
The Vols will have their own opportunity to answer questions about whether that third best team is actually Kentucky (or LSU, for that matter). But it's been helpful to see other candidates who are not on Tennessee's schedule already take losses: Texas A&M to Appalachian State, then Arkansas to Texas A&M. Auburn now seems fully removed from that conversation.
Keep an eye on Ole Miss. Should the Rebels beat Kentucky in Oxford tomorrow, their other cross-divisional game is their annual date with Vanderbilt. So a win tomorrow likely means Ole Miss just needs to go 4-2 against the SEC West to end the season at 10-2.
A 9-3 finish for Tennessee would almost certainly end nowhere worse than the Citrus Bowl. But it can also get to New Orleans if Georgia and Alabama are in the playoffs and there's not another 10-2 SEC squad out there somewhere.
I think there's also a good conversation in here about Tennessee's historical methods of defining success, and how to marry them with the changing realities of the SEC and college football. A 9-3 finish speaks for itself, since the Vols haven't done that since 2007. If you want to talk about the Vols going 10-2 themselves, that's a conversation for after you've beaten LSU, because then we're likely talking about an expected win total greater than 9.5.
Beating LSU would also leave the Vols in control of their own destiny in the SEC East no matter the outcome of the Alabama game. That's the first old goal: the idea that any season ending in Atlanta was a successful one. But things have changed in this division since 2007, or even 2016. Georgia's place as defending national champions and top team in the country, depending on who you ask, is a new variable in the equation.
So we wouldn't define the season's full success or failure by whether the Vols win the division. But if you want to entertain the argument? You can do so even if you lose to Alabama, so long as the Vols beat LSU. The Vols would then need to beat Kentucky to keep that conversation going, but the Top 10 Cats should hold enough weight on their own to avoid the lookahead.
We'll get our chance to shoot our shot against Georgia and Alabama; plenty to talk about in those weeks, and plenty to talk about next week headed to Baton Rouge. But in the big picture on the bye week, consider the goals Tennessee's athletic department now sets for itself: in addition to winning SEC and national championships, earning Top 16 finishes is in the master plan. While that translates to Sweet 16 and Super Regional appearances in tournament sports, it will roughly translate to, "Can we make the playoffs?" in college football very soon.
Consider the conversations we would be having if the 12-team playoff format was in place right now. We'd still need to see more before we felt like the Vols could straight up beat Alabama or Georgia with greater certainty, and thus need to see more before we felt like the Vols could win the title. But in the current format, there are only four seats at that table to begin with. In a 12-team format, we still might be talking about the difference between 9-3 and 10-2 for the Vols…but we might also be talking about making the playoffs instead of making the Sugar Bowl.
Either way, present or future, the Vols are fully on track for a memorable season. The expectation now is that it's our best in 15 years. And in the direction college football is headed, we would find ourselves in the conversations every team in the country wants to be in.
Much, much more to come.
Go Vols.