Of all the benchmarks we can use for this turnaround, the happiest one is Missouri.
On October 2, 2021, the Vols went to Columbia at 2-2. Vanquished at Florida the week before in a second half that got out of hand, 38-14. An announced attendance of 82,203 to watch them fight but fall to Pittsburgh two weeks before that. The surest thing was status quo, and Missouri was a 2.5-point favorite.
And then somewhere in here, something started:

Lots of things have started here over the last 15 years, and some of them even took those next few steps. But they all ultimately faltered, making those first steps more easily forgotten, and harder to appreciate the next time.
These Vols have more than followed through on theirs, climbing so high it's hard to even connect all the dots on the fly. But that first one – just 13 months ago, the first fruits of labors begun just 22 months ago – it's hard to miss. Tennessee outperformed the spread by 40.5 points, the program's best mark since 1994. They did it effortlessly.
And in these next three weeks, making it look that easy would go a long way again.
Fans think the Vols will get to that 11-1 finish. But it's not as clear-cut as it might seem on the surface. Maybe it's the ghosts of 2016, maybe it's trying to find our footing after the Georgia loss. But in this week's expected win total machine, fans give the Vols an 82.7% chance of victory against Missouri, 80.5% at South Carolina, and 93.8% at Vanderbilt. Add all that up, and you get an expectation of 11 wins…barely.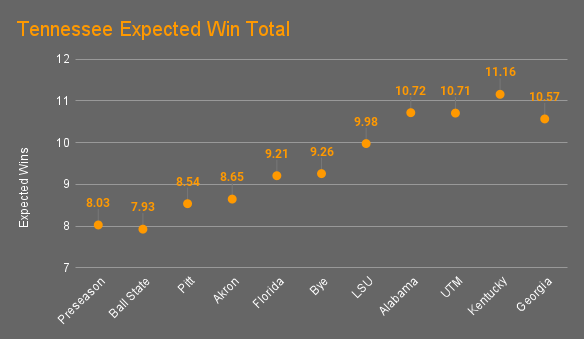 We've come a long way not just since Missouri last year, but since week two this year, when fans believed 7-5 was a hair more likely than 9-3. And now, we've been feeling 11-1 since beating Bama…it's just a matter of hanging on to it.
And for Tennessee to get where they want to go in the College Football Playoff poll, they may need to do more than hang on.
The good news: Josh Heupel and this team tend not to discriminate. Tennessee stays on the accelerator against all comers, as both Missouri and South Carolina can attest to from last year. The Tigers never stopped Tennessee on that glorious afternoon. The following week, South Carolina found a brief respite in the third quarter by doing the one thing you have to try to do against this offense: make it go backward.
Hooker was sacked on three consecutive drives, allowing South Carolina to turn a 38-7 game into a 38-20 game, plus get the ball back one more time. The defense held, and the Vols punched it in a final time for the final margin. But putting the Vols in negative situations remains the best and perhaps only way to get past this offense.
Here's an updated version of our question from the Georgia preview last week:
What Made Tennessee Punt?
Florida: never punted
LSU: 2Q Leading 20-0, three straight incompletions from the LSU 38
LSU: 3Q Leading 30-7, offensive pass interference created 1st-and-19, punted on 4th-and-6
Alabama: 2Q Leading 21-10: no gain, incomplete, complete to Fant for 7, punted on 4th-and-3 (muffed)
Kentucky: 1Q Leading 7-0, offensive pass interference created 1st-and-25, punted on 4th-and-27 after holding penalty
Kentucky: 2Q Leading 20-6, sack on first down created 2nd-and-18, punted on 4th-and-8
Kentucky: 3Q Leading 37-6, false start on first down created 1st-and-15, sack on third down created 4th-and-20
Georgia: 1Q Trailing 7-3, false start on first down, punted on 4th-and-6
Georgia: 1Q Trailing 7-3, 75-yard punt leads to sack on 3rd-and-6, punted from the end zone
Georgia: 1Q Trailing 14-3: run for 2, run for 3, incomplete, punted on 4th-and-5 at the UT 41
Georgia: 3Q Trailing 24-6: sacked on first down at the UGA 41, sacked again on 3rd down
In Tennessee's 10 punts in five SEC contests, seven have come because of a sack or a penalty. No teams have had consistent success stopping this offense from going forward. But if you can make it go backward – or if the Vols do that to themselves via penalties – you can get it off the field.
Is this Missouri defense good enough to make the Vols go backward? Will we see them sell out to try, especially after last week? It's a good test right away to see how the Vol offense will continue to adapt and go forward; they'll get another chance next week to face a hostile environment and put those skills to the test on the road as well.
We've come a very long way, those first steps taken, over and over again, at Missouri and vs South Carolina last fall. Can the Vols take them again in these last few weeks? Can Tennessee learn and grow from Athens, and extend itself against these two defenses once more?
Do that, and the biggest goals – the ones we still dreamed of somewhere deep in our hearts and our memories all those months ago, even after all those years – will still be right in front of this team.
Go Vols.